Eubank Audiology & Hearing Aids has the primary goal of improving the lives of people with hearing loss through better hearing. We proudly serve Burleson, Fort Worth & the surrounding communities in North Central Texas with state-of-the-art hearing aid technology, advanced hearing testing, tinnitus services, and evaluation and care of Benign Positional Vertigo.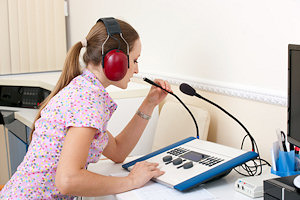 All ages are seen, from infant to senior citizen. Whether hearing problem is from noise exposure, hereditary causes, or Meniere's inner ear allergy, we have the expertise to evaluate and recommend appropriate treatment. We offer hearing protection for hunters, musicians or people exposed to loud noise at work or play.

Hearing aids are available in more styles and sizes than ever before; thanks to miniaturization of electronics and a new focus in the hearing industry on style and design. Now, more and more people can wear tiny, nearly invisible models, or sleek styles that are much less conspicuous than the latest Bluetooth headsets.

It's particularly in noisy situations that digital technology is able to provide better benefits to people. We offer a wide range of digital hearing aids, from entry level digital to premium digital technology that are custom fit to your hearing needs using brands such as Widex, Phonak, Starkey, and Oticon.

Whether you are a new or advanced hearing aid user, want to get a deal on batteries, need a hearing aid adjustment or custom ear mold or simply want to order an assistive listening device, we are here for you.

The clinical team of Eubank Audiology and Shea ENT work together for you, our valued patient, to evaluate and provide the best solution for your ear problems.